Soccer: I Love The Game
---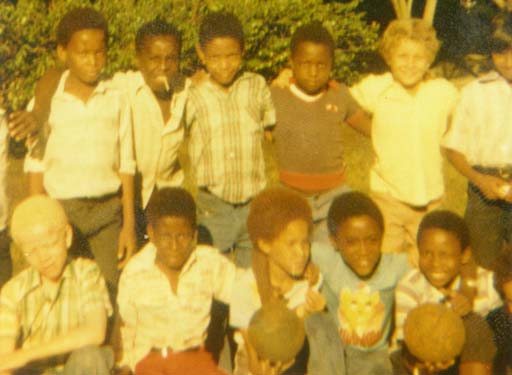 Soccer on my birthday.
Front Row (L-R): Mwelasa Ndlovu, Liwewe Liwewe, Chikoma Kazunga, Kawewe Mutti, Tebuhau and Sinjani Kazunga (half pictured).
Standing (L-R): Ponga Liwewe, Henry Sibande, me, Bella Chileshe, Ian Stuart and Tony Morera.
Playing the game the rest of the world knows as football and the Brazilians call the "romantic game" is how I spend a big chunk of my time. I spend almost every Saturday morning playing in a "pick-up" game at El Camino Park in Palo Alto. In the summers, I also spend part of Sunday playing a in a co-ed league with the Compadres.
I didn't always spend so much time playing soccer. Growing up, I was introduced to the game by Noel Mwamba (whom I've known since I was five). Noel came from a family of eight kids and they would put together matches with other kids in their neighborhood. Whenever I would visit, I would be recruited onto the team. It was great fun even though I had two left feet (I still hear people say I do to this day!)
When I was in grade five, Mulenga Tembo and I transferred to Woodlands Primary School. Every break period, all the boys in my class would challenge the boys in the neighboring class to a game (in Zambia, soccer was definitely a boys-only affair). Mulenga and I didn't want to be left out even though we turned out to be the worst two players in the class. But boy did we try hard! My big objective in life was to score a goal. Scoring for anyone was quite an achievement given the fact that you had almost thirty kids running around on a tiny field with tiny goals. Many break periods went by and it seemed like scoring would be an unattainable dream.
One day, I was "cherry picking" near the goal as I was apt to do (some would say I still am to this day!) A cross came through and the ball slammed straight into my stomach. Before I could buckle over in pain, the ball rolled into the goal. I had scored! I started to jump around in jubilation. Unfortunately, Ponga Liwewe (who took a very long time to warm up to the newcomers) quickly pointed out that it was just an accident. I denied it of course – "I meant to do that!" If you've watched soccer, you know that acting is a valuable skill!
Later on, Chikoma Kazunga (who also lived in my neighborhood) and Ponga would organize soccer games within our group of friends. Poor Chiko. He was saddled with players like Mulenga and me while Ponga would scour the school for "ringers." Chiko had too much of a heart to get rid of his weaker players (what a saint!). Ponga's team usually got the upper hand but it was a great rivalry nonetheless.
In secondary school, I took up badminton, which became the love of my life (I played on the school team). Besides, I was way out of my league for soccer. One of the boys I went to school with was Keegan Mumba. He actually played for City of Lusaka (a first division team). He later transferred to Green Buffaloes. This made me really happy – Buffaloes was my favorite team. By the time I was in form three, I would go and watch every Buffaloes home game.
So you could say that my love of the game at this point was expressed by watching since I hardly played at all. One of my favorite childhood memories was watching the 1982 World Cup on TV. Brazil (who I still love to this day) had the most amazing team I've ever seen. With players like Zico, Socrates, Falcao, Eder, and Junior, they were pure poetry in motion. They invented the "no look pass" long before Magic Johnson! The game where Brazil beat Scotland 4–1 was a clinic on how the game is supposed to be played! Unfortunately, Brazil's path to world domination was abruptly cut short by Italy and Paolo Rossi. I was heartbroken!
Watching our own national team was also very special. Zambia had some great players like "Ucar" Godfrey Chitalu (a goal scoring machine) and Alex Chola (his passing skills were brilliant). I remember the first time I saw Kalusha Bwalya play. He was only nineteen at the time. Zambia was playing Egypt. He put a move on a defender that was so amazing; the defender fell to the turf without Kalusha even touching the ball!
Zambian soccer has been beset by lots of bad luck – the worst when most of the players (from what was probably our best team ever) were killed in a plane crash while traveling to a qualifying match for the 1994 World Cup. However, we have had some proud moments. Our crowning achievement was our 4–0 thumping of Italy during the 1988 Seoul Olympics (click here for the highlights on YouTube).
When I arrived in the States in 1984, I decided to pick up soccer again (I couldn't find anyone to play badminton with!). I ended up as a bench warmer on the Southern Mississippi team. This wasn't much of an achievement. Apart from a handful of Latino and Asian players, we were pretty bad! However, we somehow won the Mississippi state tournament when I was a freshman. I left the team the next year (not enough PT coach!).
It wasn't until I got to California that I really took up the game. I was a teaching assistant at Santa Clara University and I mentioned to Nic Busette (one of my students) that I used to play a little bit. Nic (who is the biggest soccer fanatic I know!) persuaded me to shake off the rust and come out to a pick-up game. I didn't have a car, but thanks to Nic (and later Rudy Moumtaz), I had a ride to Los Gatos High School where we played on Sunday mornings. I've been hooked on playing ever since!

Pick-up at Los Gatos High.
©1999 Hugh Molotsi
---