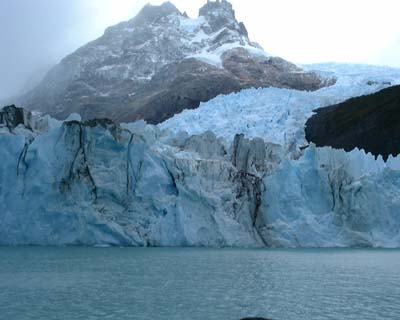 Here's the Upsala Glacier, one of the amazing sights during our vacation to Argentina in March.
Holiday Greetings 2000
Season's greetings from the Kershners and the Heilers.
Page and Jim's Holiday Party
On Saturday December 16, 2000, Page and Jim threw a festive holiday party at their beautiful home in Los Altos Hills.
Elina and Ilya's Wedding
On Saturday November 4, 2000, we witnessed the lovely wedding of the new Mr. and Mrs. Ilya and Elina Vinogradsky at Hotel Sofitel in Redwood City.
Betta's Halloween/Birthday Party
On Saturday October 28, 2000, we celebrated Halloween's and Betta's birthday by getting into costumes at Grumpy's in San Francisco.
House Construction Pictures
On Friday October 27, 2000, I moved into my new home in Cupertino. Here are pictures of the construction (May through October).
Introducing Alexander Steven Albrecht
On Saturday October 21, 2000, I went over to Henry and Chris' San Francisco home to visit Alexander, their brand new addition.
Hanging with Lasalette
On Thursday October 12, 2000, Lasalette, who we hadn't seen in five years, was in town.
Introducing Chiti Nyayani Alexander Tembo
On Tuesday June 13, 2000, we were blessed with the arrival of Chiti Tembo. See photos that proud papa Mulenga sent me on September 26.
Compadres Tournament Party 2000
On Saturday August 26, 2000, the Compadres soccer team celebrated their annual tournament party at Page and Jim's beautiful house in Los Altos Hills.
Tuan's Bachelor Pad
On Saturday August 19, 2000, I had the pleasure of seeing Tuan's beautiful spacious home in Milpitas. You've never seen a bachelor pad as magnificent and well appointed as this one! His neighborhood was also having a block party that same evening.
Sunday Fun with Betta and Hayssam
On Sunday August 13, 2000, we had brunch at Betta and Hayssam's lovely home in Woodside and then went on a long hike in the Russian Ridge Open Preserve.
Introducing Alfred Deeba
On Friday July 28, 2000, we were blessed with the arrival of Alfred Deeba into the world. See pictures I took of Alfred and family on August 4, 2000.
West Side Story Dinner
On Friday July 28, 2000, CJ's friends gathered at Chevy's in Mountain View for dinner before his performance as Tony in West Side Story.
Les and Tito
On Sunday July 23, 2000, I hooked up with my new Batswana friends Lesedinyana and Oteng (Tito) in Oakland.
Bastille Day Celebration at Page and Jim's
On Saturday July 15, 2000, we celebrated Bastille Day at Page and Jim's beautiful house in Los Altos Hills.
Thomas' Birthday
On Friday June 9, 2000, we celebrated Thomas' birthday at the Macaroni Grill in Milpitas.
Cathy and Robert's Wedding
On Saturday June 3, 2000, we witnessed Cathy and Robert's lovely wedding at Trinity Church in Menlo Park.
Carijama 2000
On Monday May 29, 2000, we enjoyed the multi-cultural delights of the Carijama festival in Oakland.
Kathy's BBQ
On Sunday May 7, 2000, Kathy was host to a great BBQ with lots of good food and friends at her house in Sunnyvale.
Argentina Vacation
At the end of March 2000, I went down to Argentina with Julie and Nic to witness Natalia and David's "real" wedding in Argentina. We also got a chance to do some site-seeing in this amazing country.
Drinks at Leirion and Scott's
On Saturday March 11, 2000, we warmed up the Baird's awesome San Francisco apartment. We were treated to professionally prepared drinks (courtesy of Allison).
Pretell Slide Show
On Saturday January 22, 2000, we saw amazing slides from Eduardo and Erika's travels to Indonesia, Egypt, Israel, and Jordan.
David's Birthday Party
On Saturday January 15, 2000, we celebrated David's birthday in San Leandro.