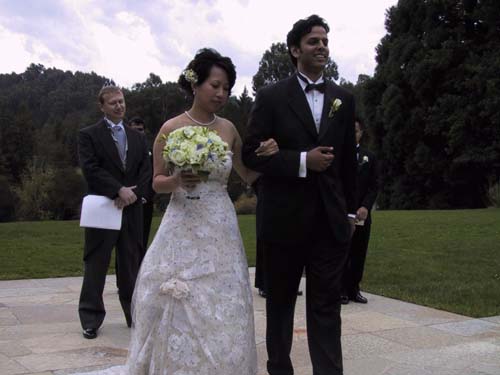 Here's Anand and Connie who were married in a beautiful ceremony at Tilden Park in September.
Johannesburg Layover
On Sunday December 30, 2001, I had a brief layover in Johannesburg on my way from Zambia back to the States. See pictures of my family who came to see me off.
Lusaka BBQ
On Saturday December 29, 2001, Iris hosted a BBQ at her parents' home in Longacres, Lusaka.
Luangwa Christmas
See pictures from the 2001 Christmas I spent with Iris and her family at the Luangwa National Game Park in Zambia.
Page and Jim's Holiday Party 2001
On Saturday December 8, 2001, Page and Jim threw a festive holiday party at their beautiful home in Los Altos Hills.
Yosemite
See pictures from the weekend I spent with Iris in Yosemite Valley (October 27 and 28, 2001).
Scrabbling with Zewe and Charles
On Saturday October 13, 2001, Zewe and Charles treated us to good food, cheer, and vicious scrabbling at their Harrisonburg, Virginia home.
Cristina's Birthday Party
On Friday October 5, 2001, we celebrated Cristina's birthday at Giorgio's in Milpitas and then had our just desserts at Cristina and Thomas' house.
Anand and Connie's Wedding
On Monday September 24, 2001, we celebrated the wedding of Anand Hattiangadi and Connie Chin. Check out pictures from a fun-packed weekend.
Compadres Tournament Party 2001
On Saturday August 25, 2001, the Compadres soccer team celebreated their annual tournament party at the Rasmussen mansion in Los Altos Hills.
East Coast Visitors
See pictures from Chiti, Iris, Judy, Mulenga, Oti and Susan's August 2001 visit.
Connie's Birthday Party
On Saturday July 21, 2001, we celebrated Connie's birthday at Cafe Adriatic and Nancy and Walt's house in Willow Glen.
Bastille Day Celebration at Page and Jim's
On Saturday July 14, 2001, we celebrated Bastille Day at Page and Jim's beautiful house in Los Altos Hills.
East Coast Swing
See pictures from my July 2001 visit to New York and DC to catch up with old friends.
Amber and David's Wedding
On Saturday June 23, 2001, we witnessed the lovely wedding of the new Mr. and Mrs. David and Amber Overfield in Los Altos.
CJ's Farewell Party
On Saturday June 16, 2001, we gave CJ our best wishes before he took off for the Big Apple where he's going to make a big splash on Broadway.
Henry, Chris and Alexander's BBQ
On Sunday May 27, 2001, we were treated to great BBQ at the Albrecht's new home in San Francisco with freshly completed landscaping.
Charlotte and Lorraine's Birthday Party
On Saturday May 26, 2001, we celebrated Charlotte and Lorraine's birthdays at with karaoke at Boston Spirits in San Francisco.
Celebration at Kami and Essam's
On Sunday May 20, 2001, we celebrated the acquisition of Catamaran by Infineon at Kami & Essam's house in Palo Alto.
Take Me Out to the Ball Park
On Thursday April 25, 2001, we went out to Pac Bell Park in San Francisco to watch the Giants play the Reds.
Craig's Field Day 2001
After a one year hiatus, Craig's Field Day at Mitchell Park in Palo Alto was back on Sunday April 22, 2001. This time, there were a lot more kids running around.
Easter at Amer's
We celebrated Easter Sunday on April 15, 2001 with Amer and his family visiting from Lebanon at Amer's house in Menlo Park.
Bachar and Hayssam's Birthday Party
On Saturday April 14, 2001, we celebrated Bachar and Hayssam's birthdays at Betta and Hayssam's house in Woodside. Both Balach brothers were born on the same day!
Connie and Anand's Engagement Party
On Sunday April 1, 2001, we celebrated Connie and Anand's engagement at Lara and John's house in Albany, CA.
South Africa Vacation
See pictures from my vacation to South Africa in March 2001. My sister who lives in Japan, Prisca, and her son Jubei were also visiting at the same time.
Freda's Birthday Party
On Saturday February 24, 2001, we celebrated Freda's birthday at Makhol Manor in Marietta, GA (near Atlanta).
Amer and Christine's Birthday Party
On Friday January 19, 2001, we celebrated Amer and Christine's birthdays at the South Beach Cafe in San Francisco.
David's Birthday Party
On Sunday January 14, 2001, we celebrated David's birthday at his and Natalia's Sunnyvale apartment.
Guests from Argentina
On Saturday January 6, 2001, Cristini, Maria Eugenia and Dolores came to the new home to visit.