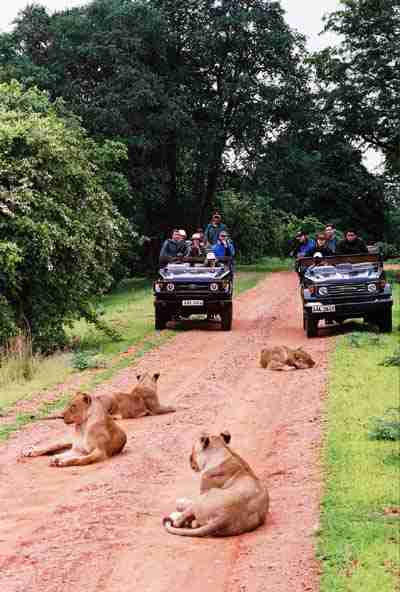 At South Luangwa National Park in Zambia for the New Year.
New Year's Celebrations
At the end of 2002, we were joined by friends and family in Zambia to celebrate and bring in the New Year. See photos from Lusaka, Livingstone, and Luangwa.
Kasisi Children's Home
On Tuesday December 24, 2002, we went to visit the Kasisi Children's Home, an orphanage outside of Lusaka.
Thanksgiving 2002
See pictures from Thanksgiving at Barby and Vic's house in Saratoga.
Betta, Perla, and Valencia's Halloween/Birthday Party
On Saturday October 26, 2002, we celebrated Halloween and Betta, Perla, and Valencia's birthdays at the Atrium in San Francisco.
Cristina's Birthday
On Sunday October 6, 2002, we celebrated Cristina's birthday at Cristina and Thomas' house in Milpitas.
BPG Brawlers
On Sunday September 8, 2002, the "BPG Brawlers", a group of fantasy football friends and their families came to our home to celebrate the start of the 2002 football season.
Introducing Avalena Sophia Baird
On Sunday August 11, 2002, we were blessed with the arrival of Leirion and Scott's beautiful daughter. See photos we took at the Baird's home in San Francisco on August 17.
David's Salsa Birthday Party
On Saturday July 27, 2002, we celebrated David Adams' birthday with Salsa dancing at the Metronome Ballroom in San Francisco.
Scenes from Zambia
See photos from our trip to Lusaka and Livingstone in June, 2002.
Zewe and Charles' Wedding
On Saturday June 29, 2002, Zewelanji Serpell and Charles Lockett were married at the Lilayi Lodge outside of Lusaka, Zambia. See pictures from a fun-filled day.
Anna Mokgokong's Prestige Award
On Tuesday June 25, 2002, we gathered at Anna's house in Waterkloof, South Africa to celebrate her Prestige Award as South Africa's top businesswoman.
Kami and Essam's Summer Party
On Sunday June 16, 2002, Kami and Essam treated us to sumptuous treats at their home in Palo Alto.
Thomas' Birthday Party
On Sunday June 9, 2002, we celebrated Thomas' birthday at Thomas and Cristina's house in Milpitas.
Lorraine's Birthday Party
On Saturday June 8, 2002, we celebrated Lorraine's birthday at the Mint Karaoke Lounge in San Francisco.
Sheri and Rob's Wedding
On Sunday May 26, 2002, Sheri Levy and Rob Sohn were married at the Four Seasons Hotel in Toronto, Canada. See photos from the lovely event.
Iris' Graduation
On Thursday May 23, Iris received her doctorate from SAIS in Washington DC. See photos from her graduation ceremony at Constitution Hall and our celebration at the Tembos.
Maui
See photos from Maui in April.
Bachar and Hayssam's Birthday Party
On Saturday April 13, 2002, we celebrated the Balach Brothers' birthday at Betta and Hayssam's house in Woodside.
More Pictures of Camila
See more photos of Camila Grijalva taken at her parents' place in Redwood Shores on Saturday April 13, 2002.
Compadres Pre-season Party
On Saturday April 6, 2002, the Compadres gathered at David and Lorraine's place in Palo Alto for a pre-season party.
Introducing Camila Grijalva
On Saturday March 9, 2002, we were blessed with the arrival of Camila Grijalva. See pictures of Camila and her happy parents that I took the next day at the Lucille Packard Children's Hospital in Stanford.

Natalia and David's Baby Shower
On Saturday February 16, 2002, we had a baby shower for Natalia and David at their home in Redwood City.
Boston Trip
See pictures from my January 2002 trip to Boston where I got to catch up with Paul, Ted, and Joe.
Super Bowl Party
On Sunday January 3, 2002, friends came over to watch the Patriots beat the Rams.
David's Birthday Party
On Sunday January 13, 2002, we celebrated David's birthday at David and Natalia's place in Redwood City.
Amer and Christine's Birthday Party
On Saturday January 12, 2002, we celebrated Amer and Christine's birthdays at Ponzu's in San Francisco.
Paul's off to Oz
On Friday January 4, 2002, friends of Paul and Adelaide Prentice gathered at Molly Magee's in Mountain View to say farewell to Paul who is leaving the Bay Area for Australia (Adelaide will follow soon).
Rasmussen New Year 2002
See pictures from our 2002 New Year celebrations and Razz's 40th birthday at the Rasmussen's lovely home in Los Altos Hills where we were treated to drinks, food, and games.