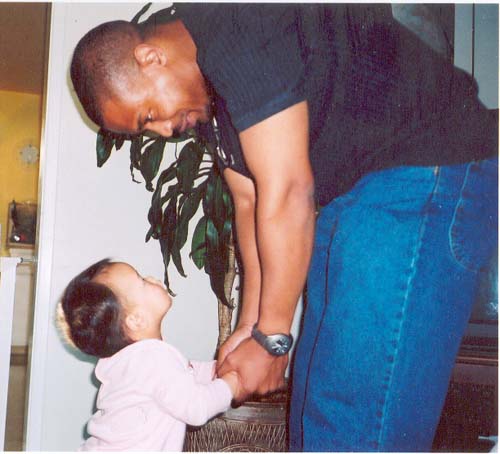 Dancing with August Hattiangadi
Holiday Greetings
See some of the lovely cards we received this year.
Christmas at Joan and Wally's
We celebrated this Christmas at Joan and Wally McDonald's home in Mountain View.
Mulenga's 40th Birthday Party
On Friday December 16th, Susan threw a surprise birthday party for Mulenga at the Marriott Suites in Dulles, Virginia. Check out photos from a really good celebration.
My Birthday Party
On Friday December 2nd, Michelle surprised me with a birthday party at AsiaSF in San Francisco. If you know anything about this place, you know you're about to see some hilarious photos!
Philippines
In October, Michelle and I went to the Philippines to get married. Check out our wedding web site for wedding pictures. Here are photos from before and after the wedding.
Mary Ruth's Birthday Party
On Friday September 23rd, we celebrated Mary Ruth's birthday at her home in San Jose.
Vegas
Michelle and I visited Las Vegas in September to celebrate our anniversary.
Mia's Birthday Party
On Saturday August 20th, we threw a surprise dinner party for Mia's birthday at Seven in San Jose.
Essam's BBQ
See photos from Essam's BBQ on Sunday August 14th at Essam's place in Palo Alto.
Dmitri's Birthday Party
See photos from Dmitri Krakovsky's birthday party on Saturday August 13th at Dmitri and Heidi's beautiful home in San Francisco.
Andrea's BBQ
See photos from Andrea's BBQ on Saturday August 13th in Cupertino Community Park.
August's 1st Birthday Party
On Sunday August 7th, we celebrated August's first birthday party at Anand and Connie's place in Mountain View.
Ali's Birthday Party
On Friday July 22nd, we celebrated Ali's birthday party by congregating at the Maykadeh's Persian restaurant in San Francisco.
Visiting the Balaks
On Sunday July 17th, we visited Mike, Tiffany, Brittany, and Blake at their lovely home in San Jose.
Amer's Dinner Party
See pictures from Amer's sumptuous dinner party at his San Francisco condo on Saturday July 16th with Philippe, Alex, Freya, Zeina, Serge, Michelle, and yours truly.
Introducing Natalie Elyse Tumacder
On Saturday July 9th, 2005, Renee and Jacint were blessed with the arrival of baby Natalie. See photos from July 16th when we went to visit the happy family at their home in Willow Glen.
July 4th Weekend
The Montgomery family came up from Burbank to spend the long weekend with us.
Atlanta
See photos from our June trip to Atlanta to visit Freda and Chris Brazle and their beautiful girls. Noel and Andrea were also visiting from New York.
Tom's Birthday
On Saturday June 18th, we celebrated Tom's birthday at the House of Prime Rib in San Francisco.
Introducing Nabil Andrea Balach
On March 25th, 2005, Betta and Hayssam were blessed with the arrival of Nabil, their beautiful new baby boy. See photos from Sunday May 22nd when Michelle and I went to give the new parents and baby a visit.
South Africa Vacation
In May, Michelle and I went to South Africa to visit my parents. Our trip included stops in London, Pretoria, Sun City and Cape Town.
Rogerio's Farewell Party
On Saturday April 9th, a group of Rogerio's friends gathered at The Temple in San Jose to wish a fond farewell to Rogerio who's leaving the Bay Area for Europe.
Singapore and Bangalore
In March, I traveled on business with my colleagues Nilesh and Jim to Bangalore, India. The trip included a nine hour layover in Singapore where I got a chance to catch up with Ka Li and see the sites.
Ravapallooza 2005
Saturday February 26th brought this year's installment of the hippest party in Silicon Valley at Tracy and Rob's place in Sunnyvale.
Michelle's 27th Birthday
On Sunday February 6th, we celebrated Michelle's birthday and watched the Super Bowl at chez nous.
Killie's Birthday Party
On Saturday January 22, we celebrated Glenda and Lando Dalisay's daughter Killie's first birthday in Milpitas.
Nina and Mike's Housewarming Party
On Friday January 21, we warmed up Nina and Mike's new place in Mountain View.
Grandma's Birthday
On January 1st, Michelle and I hosted a birthday celebration for her grandmother at our home in Cupertino.