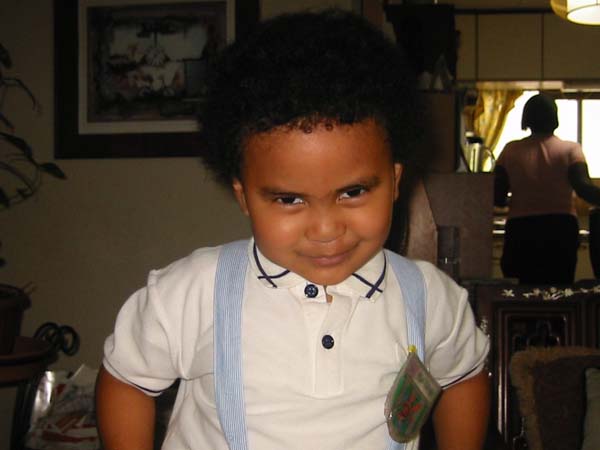 My funny (and very cute) nephew Jubei who I got to hang out with during my July trip to Japan.

Holiday Greetings
See some of the lovely cards I received this year
Christmas 2004
Michelle and I spent Christmas in Burbank and Catalina.
Thanksgiving 2004
This year, we got to enjoy three Thanksgiving dinners!
Essam's 40th Birthday
On Saturday November 20th, we celebrated Essam 40th birthday at Grumpy's in San Francisco.
Allison and Cory's Housewarming Party
On Saturday October 23rd, Allison Mnookin and Cory Olcott hosted a housewarming party at their beautiful house in San Mateo.
Sam in the Bay Area
On Friday October 22nd, my brother who lives in South Africa came to the Bay Area to visit me for a day after spending a week in San Diego at a medical symposium.
Lasalette in the Bay Area
On Saturday October 16th, I hooked up with Lasalette Kershner was in San Francisco for the weekend with her sister and brother-in-law.
Cristina's Birthday
On Saturday October 9th, we celebrated Cristina Andres' birthday at Cristina and Thomas' home in Milpitas.
Bethany's Birthday Party
On Saturday September 25th, we celebrated Bethany Tyrell's 26th birthday in Los Altos Hills.
Nebraska
On September 11th, my alma mater, Southern Mississippi played Nebraska University at Memorial Stadium in Lincoln Nebraska. Henry Albrecht and yours truly descended on Lincoln where we were hosted by Scott Baird to enjoy the sights and sounds of a true football Mecca.
Seattle
On September 4th, I flew up to Seattle to visit Elizabeth Nelson and her family for the weekend.
Compadres 2004 Tournament
See photos of the Compadres soccer team as we competed in the 2004 Silicon Valley Soccer Association Co-ed Tournament the weekend of August 28 and August 29.
Party at Bethany's
On August 27, 2004, Bethany Tyrrell held a party at her Los Altos Hills pool house.
Cristina's 30th Birthday
On August 14, 2004, Rachel hosted a superheroes birthday party at her parents' house in Los Altos for Cristina Jimenez who turned 30.
Introducing August Evelyn Hattiangadi
On August 7, 2004, Connie and Anand became proud parents of a beautiful baby girl. See photos I took on the 11th at Anand and Connie's home in Mountain View.
David Adams' 36th Birthday Party
On August 1, 2004, we celebrated David's 36th birthday at his home in Palo Alto.
Connie and Anand's Baby Shower
On July 25, 2004, Connie and Anand hosted a baby shower for baby August who is due to arrive any minute!
Japan 2004
See photos from my July vacation to Japan where I went to visit my sister Prisca and her family. I also made a special page for my nephew Jubei who loves to ham it up for the camera!
Ravi, Rob, and Tracy's BBQ
On Saturday June 12, 2004, we enjoyed great food and good company at Ravi, Rob, and Tracy's pad in Sunnyvale. (Thanks to Ravi for the funny captions).
Our Developing World's Salsa Party
On Saturday May 21, 2004, Our Developing World held a Salsa Party fundraiser at chez moi.
Rudy's Graduation
On Sunday May 15, 2004, Rudy Moumtaz graduated (summa cum laude) from the University of the Pacific's Business School in Stockton. See photos from the ceremony and pictures with friends and family.
Pretell House Warming Party
On Saturday May 14, 2004, we warmed up Erika, Eduardo, Sophia, and Marco's lovely new home in Redwood City.
Bwembya's Baptism
See photos from my May trip to the Washington DC area where I attended Bwembya's baptism and caught up with old friends.
Craig's Field Day 2004
On Saturday April 24, we celebrated Craig's birthday at Palo Alto's Mitchell Park with fun and games in the sun.
Bairds visit the Bay Area
See photos from Scott, Leirion and Ava Baird's April visit to the Bay Area.
Maya Natarajan
On Wednesday April 14, 2004, after 26 years (yikes!), I hooked up with Maya at Amarin Thai Cuisine Restaurant in Mountain View. See if you recognize her. I certainly didn't!
Hayssam's 40th Birthday Celebration
On Saturday April 11, 2004, we celebrated Hayssam's 40th birthday with a 1975 theme at La Table Restaurant in San Francisco.
Natalia's Birthday Party
On Saturday April 11, 2004, we celebrated Natalia's birthday at David and Natalia's home in Redwood Shores.
Ravi's Party
On Friday March 19, 2004, Ravi threw a party for his Intuit friends at his pad in Sunnyvale.
Lolo Farewell
On Sunday March 14, 2004, we had a farewell brunch at Le Zinc in San Francisco for Lorraine at who's heading to LA.
Rago Farewell
On Saturday February 28, 2004, we wished a fond farewell to Jeff, Marie-Tristan and Owen Rago who are heading back to Boston.
Ladies of Opulence Valentine's Day Ball
On February 14, 2004, We enjoyed a night of elegance, romance, and fun at a Valentine's Day Ball at Makhal Manor in Marietta, Georgia.
Fleur't Grand Opening
On February 12, 2004, Elisabetta Cattaneo (Betta) hosted a celebration of the opening of Fleur't in San Francisco.
McCoy Tyner
David Bellard and I met McCoy Tyner when he performed at Yoshi's on February 1st.
Ravapallooza 2004
January 31, 2004 brought another edition of Silicon Valley's hippest party at Ravi Bellur's place.
Alex and Laura Lerner's Dinner Party
On January 10, 2004, we were treated to a lovely dinner at the Lerner's home in Almaden Valley.