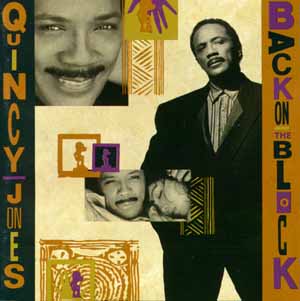 Quincy Jones — Back On The Block
Produced by Quincy Jones
It had been almost eight years since Quincy Jones had released an album. In this period he had attained unprecedented success as a producer after the huge success of Michael Jackson's Thriller and We Are The World. However, in that time, the music tastes had shifted. In particular, hip hop had become a major force to contend with. Back On The Block attempts to draw a common theme between hip hop and the genres that preceded it. The title track has it all: It features controversial rapper Ice-T, the debut of Tevin Campbell, and African music veterans Caiphus Semenya and Letta Mbulu. The new version of Birdland is the best I've ever heard. It features the now deceased Ella Fitzgerald, Sarah Vaughan, Miles Davis, and Dizzy Gillespie all making one amazing final hurrah. Setembro features awesome solos by George Benson (guitar) and Gerald Albright (sax) accompanied by the heavenly harmonies of Take 6. Jones has the impressive credentials to attract the best talent: The featured player credits read like a Who's Who in Music. Notably missing is Patti Austin who seems to have been replaced by Siedah Garrett as Jones' favorite diva.