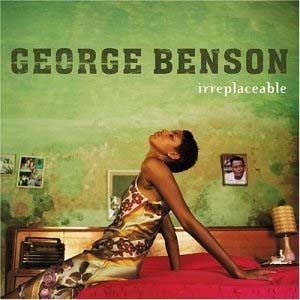 George Benson "Irreplaceable"
Produced by Joshua P.Thompson and various producers
I'm a big fan of George Benson and his amazing ability to make great music in different genres. His amazing guitar and vocal talents create wonderful possibilities for the producer willing to charter new territory by fusing in George Benson's timeless style. Jazz purists will diss George's latest foray into R&B but don't be dissuaded. This is one of George's best albums ever. Joshua Thompson (who's impressive resume includes producing JOE, Alicia Keys, and Luther Vandross) does a masterful job of making George more accessible to today's young audience without sacrificing any music integrity. Every song is a winner. "Irreplaceable" kicks off the album with a smooth mid-tempo groove and features the lovely vocals of Nakiea. I particularly love "Six Play" - an amazing ballad combining George's vocals and electric guitar with Joshua Thompson's surprisingly good acoustic guitar. On "Strings Of Love", you'll hear George playing acoustic guitar for the first time on record.
Unfortunately, some really good cuts did not make the US version of this album. There's "Loving Is Better Than Leaving" (co-written and co-produced by JOE), "Whole Man", and "Reason for Breathing" (the remake of the Babyface hit which George brings to a brand new level). I can only guess the suits at GRP thought would be too radical for the US audience. Luckily, you can download these songs from iTunes and still get the full "Irreplaceable" experience.