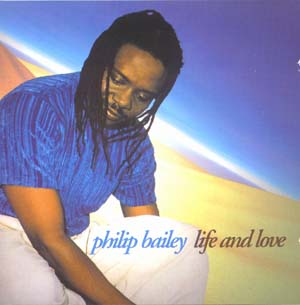 Philip Bailey — Life and Love
Produced by Alan Glass, Andrew Klippel, Philip Bailey & Jean-Paul "Bluey" Maunick
A disturbing trend recently has many soul musicians of yesteryear left without major record labels. James Ingram, Jeffrey Osborne, and Philip Bailey's big success in the eighties hasn't translated to record company loyalty.
As a result, you may have a hard time getting your hands on Life and Love which was released in Europe and Japan. However, it would certainly be worth the effort. This solo effort far outshines Philip Bailey's last Earth, Wind & Fire album (In the Name of Love).
The stand out tracks are the "Bluey" produced How Can I Rely On You and Steppin' Through Time which have seventies-style horn and string arrangements. Philip also charters into new territory for him with Weightless and Caution To The Wind which both feature the very talented Ta Ta Vega on background vocals. Down seems to be Keith Sweat inspired although it has Philip's distinctive mix of normal and falsetto vocals.
If you've been wondering what Philip Bailey's been up to, he's alive and kicking and is very much still the man.