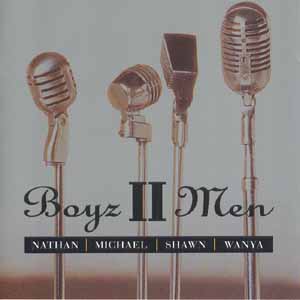 Boyz II Men — Nathan | Michael | Shawn | Wanya
Various Producers
After gaining great success with super-producers Jimmy Jam & Terry Lewis (On Bended Knee) and Babyface (End of the Road), you wouldn't expect much from a Boyz II Men effort without them. As it turns out, this is by far Boyz II Men's best album with the Boyz showing off that they have become bonafide musicians and songwriters as they take more control of the reins. You'll find a good diversity of songs: Step On Up is an awesome party jam; Beautiful Women is Latin-infused pop (I guess Latin is in fashion now); and What The Deal features a great guitar performance from Professa Funk.
But as always, Boyz II Men really shine on the ballads: The Shawn-penned Pass You By and the wonderful acapella I Do (written and produced by Mervyn Warren of Take 6 fame) compete for best track on the CD. I also like the cleverly written pick-up song Thank You In Advance (written and produced by Shep Crawford) which includes the lyrics: "Girl you look like my first wife, but I've never been married before".
This is a phenomenal album that would be a shame to miss.